Maryland Premiere // Maryland Film Festival // May 11 & 12!
We're very excited to be bringing I USED TO BE DARKER home to Baltimore for its regional premiere at the Maryland Film Festival on May 11th at 8PM and May 12th at 2PM. We've put together an epic event at Metro Gallery following our opening on Saturday night, featuring performances by Kim Taylor + Ned Oldham, Aram Stith and Jack Carneal of the Anomoanon + Guy Blakeslee of The Entrance Band + very special guests Dave Heumann and Walker Teret! Plus, DJ Co La (Matt Papich) will play between sets, hot of his record release in Europe!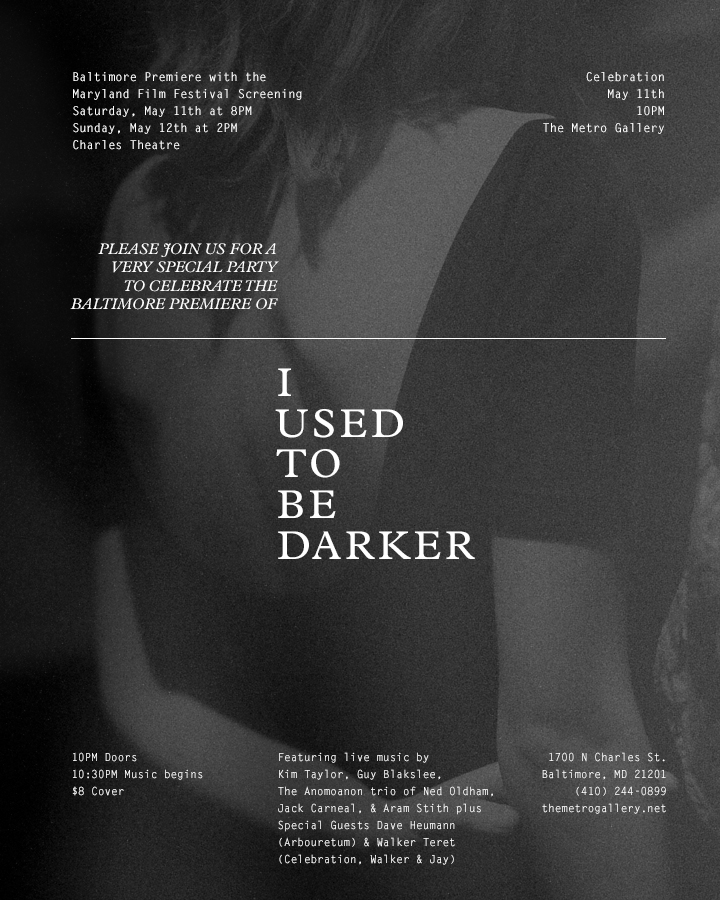 Performances by:
Kim Kaylor (I Used To Be Darker) -http://kim/-taylor.net
Guy Blakeslee (The Entrance Band, music featured in Darker) -http://www.theentranceband.com
The Anomoanon trio of Ned Oldham, Jack Carneal, and Aram Stith plus Special Guests Dave Heumann (Arbouretum) and Walker Teret (Celebration, Walker & Jay) http://nedoldham.blogspot.com
++ DJ CO LA (Matt Papich) makes noise btw sets!!
Doors 9:30pm
Show starts at 10:30pm
BUY YOUR TIX TO THE FESTIVAL SCREENINGS HERE!
$8